Online
Pharmacy App
Development Solution
Simple management of the complete

medicine delivery business.

Platform for fastest medicine delivery.
Ease of use for end-customers.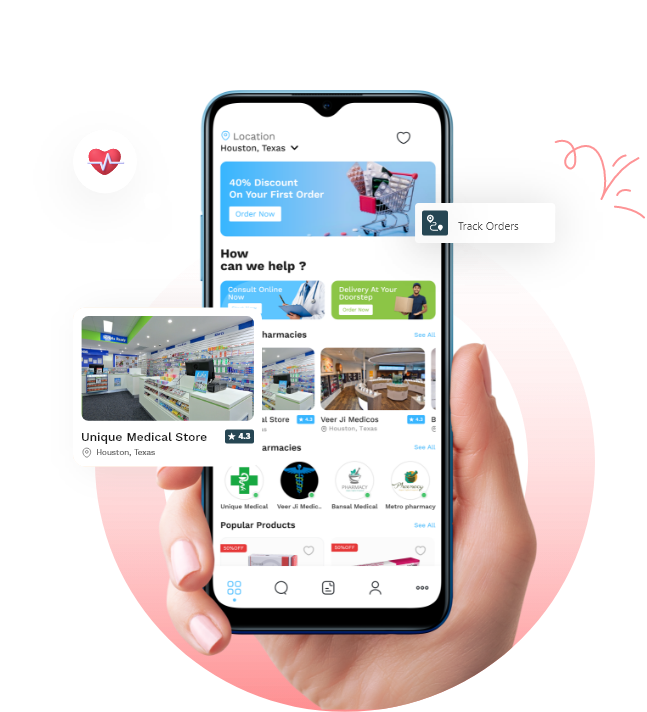 Our
Clients
Who Trust our services
Robust Pharmacy App Development Solution
For Every Pharma Business
Our comapny also offers a custom solution for your every business models.
Digital Startups

Get started with your own pharmacy delivery business with our on demand pharmacy app solution.

Hybrid Models

Manage your offline and online business with our pharmacy app solution.

Multiple Chains

With our online pharmacy app, manage your various retailers at once & scale up the growth.
Increase Your Pharmacy Business Profits by 10X Via selling Medicine Online.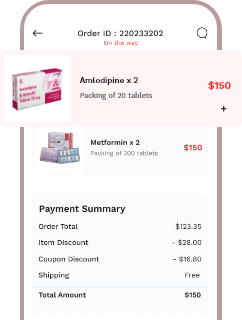 Pharmacy Delivery Service App Solution
Expand your pharmacy business with a pharmacy delivery service app solution.
Easy Ordering
Get features like order tracking, guest checkout, and cart recovery.

Customers may repurchase any goods using the built-in store credit system.
Multiple Payment Options
Allows a selection of multiple payments options like PayPal, Amazon Pay, wallets, credit & debit cards.

Integrate SSL and secure your online payments
Mcommerce Ready
To increase mobile user conversions, make your websites mobile commerce ready.

Mobile push notification, SMS, and visitor monitoring capabilities.
Offer & Discount
Launch many email campaigns to provide product discounts and special offers.

Thrill users with amazing discounts, combos & customer loyalty programmes.
Simple Shipping
No startup fees and commitment to several delivery partners

System-based printing of shipping labels.
Easy Refunds & Returns
Offer simple return and refund procedures to win clients' trust

In addition to admin, sellers can also control refunds.
Deliver Smoothly With Our Seamless Features And Exceptional Functionalities
We offer grocery delivery app solutions that can scale up your business like never before.
Let your customers order hassle-free from your app & website and provide them an omnichannel experience using amazing features.
Easy App Onboarding
Hassle-Free Ordering
User-Friendly Interface
Multiple Payment Options
Order Status
Order Tracking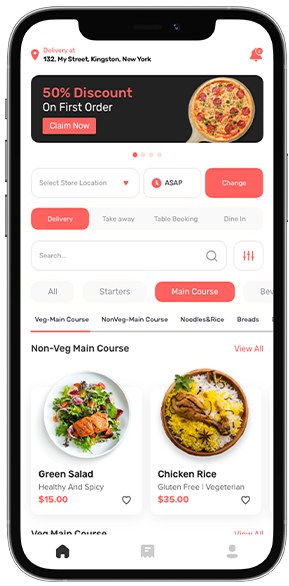 Let your drivers navigate fast from one location to another using the route optimization feature and ensure on-time deliveries.
Access to Optimal Routes
Availability of Information
Set Status
Get Order Details
Payments & Performance
Track Pickup Locations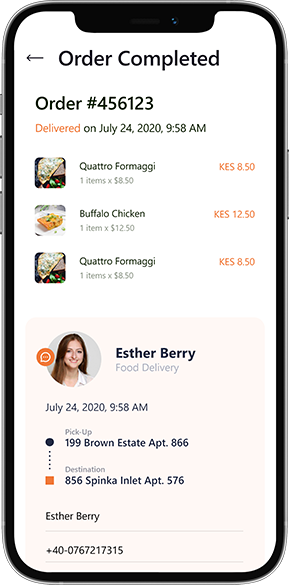 Our pharacy delivery platform provide ease to vender for managing service,orders, and store.
Daily Report
Operation Manager
Track Deliveries
Order Requests Mangement
Notification Alert
Manage Availability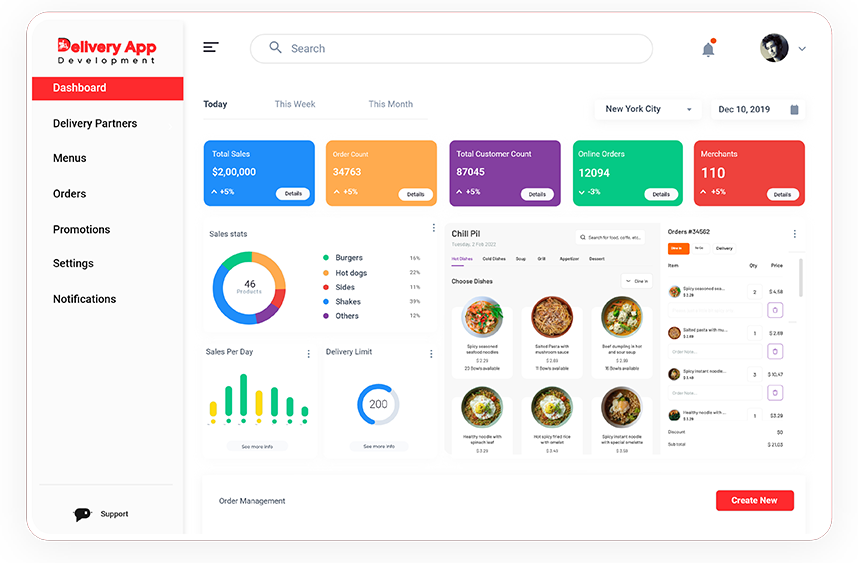 Admin panel used to manage the business logic of the online medicine delivery solution.
Business Control
Menu Management
Order Management
Payments & Commissions
Check Reports & Analytics
Customer Management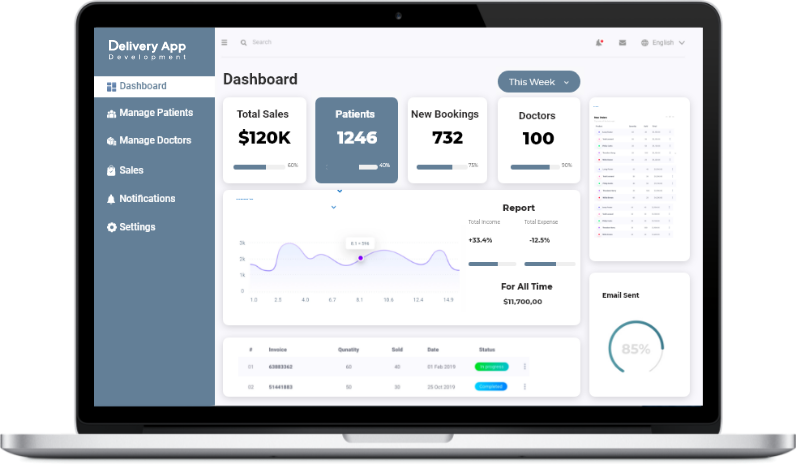 Deliver Smoothly With Our Seamless Features
And Exceptional Functionalities
We offer grocery delivery app solutions that can scale up your business like never before.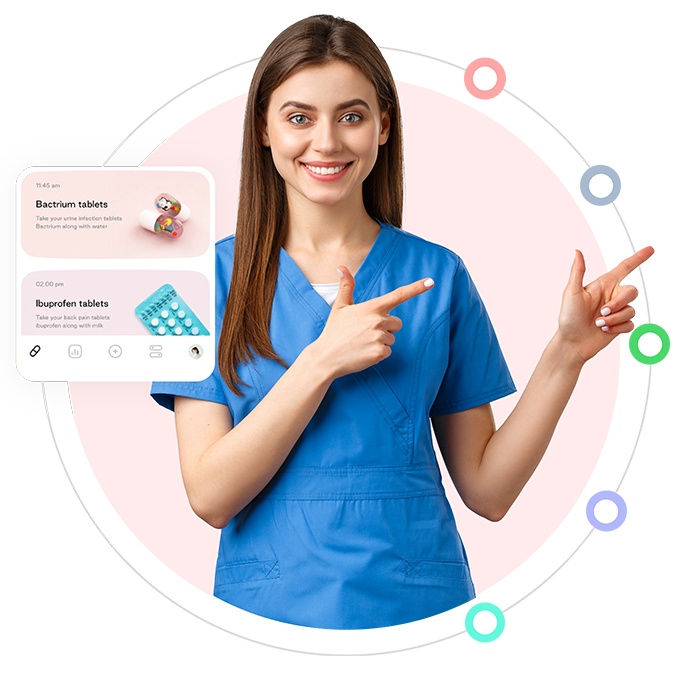 Advance Search

User can easily find and select the medicine.

Authenrication

User need to upload the prescription for the verifiaction.

Preparing the Cart

User can add medicine to the cart.

Order Placement

Make a purchase using the free shipping option.

Payment

Easy Payment method using online or COD.

Genrate High Revenue by Selling

Medicine Online.

Why Choose Us!

For Next Genration App Development

Whitelabel App Solution

You will be given access to a white label solution that enables you to attract your target clients with official brand names and themes.

Robest & Scalable

We built a platform for ordering medications that is extremely scalable using a strong technological stack.

Save Time & Money

Our pharmacy app developers have built a foundational solution to let you launch your concept right away.

Native Experience

For a seamless experience, the system offers native pharmacy ordering app for iOS and Android.

Superior UI &UX

An intuitive user experience has been carefully considered when designing the app and the web admin interface.

Go Global

In order to reach a global audience, we offer support for your preferred payment channels with multi-currency compatibility.

See What

Our Client's Say

By providing superior solutions, we assist global companies, local firms, and startups in expanding their businesses.

Abdul Basith

Founder & CEO of Riksho

I am working with Apptunix since August 2021, the company has been very supportive from day one. They are well-equipped with their strategic approaches and planning and handled all my queries with precision and needful insights. Throughout the project, the team members were highly collaborative and I am highly contented with the firm.

Kenneth Kammersgaad

Founder & CEO of BikeFit Challenge

I have worked with more than 30 companies now and Apptunix turned out to be one of the best companies, with stable velocity. I was certain about the specifications and details of the project and the team delivered the solution by implementing all those specifications thoroughly. The team was very supportive and available for communicating whenever needed.

David Ams.

Founder & CEO of Luxbubble

I was impressed that I could raise any concerns directly with the CEO and receive prompt responses, follow-up and action. The project team were great to deal with and it often felt like we were one collaborative team. Delivery manager and QA lead were professional, diligent and highly competent.

Reece Willamson

Founder & CEO of Willamon Fitness

I would like to thank Apptunix for all their hard work. The team had a huge contribution to get everything completed on time. The team communication with the team has been very quick and transparent. Apptunix understood my project very clearly and worked according to that. I would recommend them for mobile app development services as they are the experts in the market.

Manny Saverio

President & Owner at Siverio Stunts

"When I first went to Apptunix, I wasn't sure what to expect from them, but learning of their experience on similar projects gave me a real confidence boost. They fully delivered on their promise. My project was completed on time and with total satisfaction."

Landon Battles

Co-Founder & CEO of Relief Play

Apptunix has shown commendable dedication to my project. The delivery got pushed back a bit due to COVID but they worked continuously in those circumstances. I appreciate all your efforts and hard work. Thanks!

Saad Khan

Co-Founder & CEO of SK Tech

The teams are very responsive and understanding. They managed to understand my business idea well and I am highly satisfied with the quality of work they deliver. I appreciate all the assistance you guys have offered and I would definitely recommend Apptunix for transforming your business.

Wisam

CEO , Co-Founder

Thank you so much for the efforts exerted in completing my project. Your follow-ups and feedback have played an important part in perfecting this application and we would definitely continue to be in touch regarding any modifications or whatever that might need to be fixed.

Ahmed Tarig

Co-Founder & CEO of MTGARGK

A big thanks to team Apptunix for their efforts and expertise towards our project. Their services have been excellent and outstanding. They have always impressed us with their precision and professionalism. HIghly recommend them for getting digital solutionss developed for other businesses.

Daniel Ohale

Founder & CEO of HTH

I appreciate all the efforts of your team towards the project. Apptunix team has responded effortlessly to the changes I requested any time of the day. I would definitely recommend Apptunix for mobile app development services.

Aleia Mims

Client

I have had an amazing experience with Apptunix, when I decided on building a website, I had a very vague vision, but the company understood my vision and gave me varied templates & designs to choose from. They maintained great communication and I received my project much faster than it was anticipated and that too with complete precision.

Let's Work Together Describe your project with us.